PRESENTATION

THE ORIGINS

THE IMAGE


THE SANCTUARY


THE DEVOTION

LOCATION MAP

MASSES



AUDIO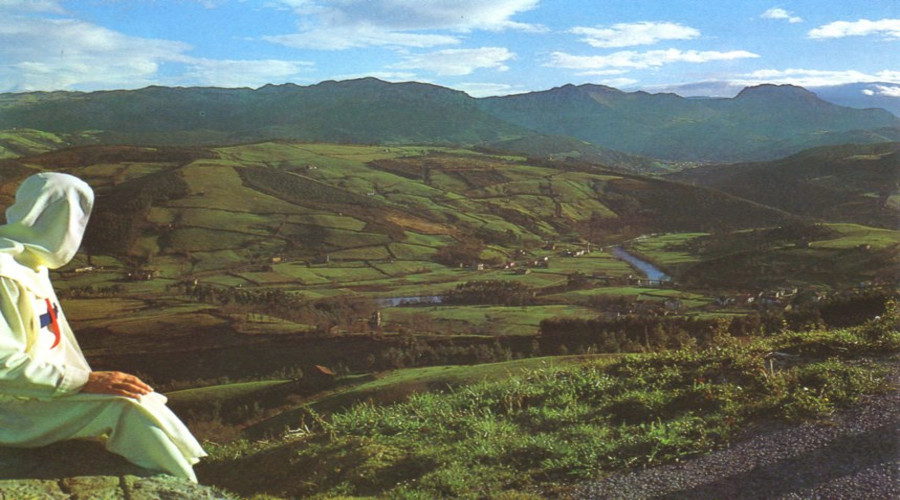 THE SANCTUARY
---
Over time the smallness of that hermitage was insufficient to accommodate so many pilgrims. Therefore, at the beginning of the 18th century, the current sanctuary was erected on the site of the old hermitage. This new temple was built in the Baroque style following the lines of Juan de Rivas Puente.

Outside the temple stands out its sober, as well as majestic FAÇADE, in calcareous stonework. It is crowned with a bell gable-shaped bell tower.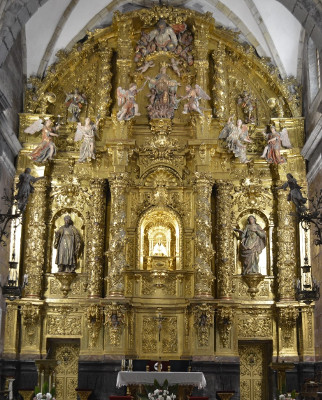 The interior of the temple, well- proportioned and welcoming, is presided over by a magnificent CENTRAL ALTARPIECE in the Churrigueresque style, the work of Raimundo Vélez and Bernardino de la Vega. The theme is eminently Marian; because they place in his central niche the image of «Bien Aparecida» with the Child in her arms. On each side of the niche, there are two large and magnificent carvings of the Virgin's parents, Saint Joachim and Saint Anne. In the upper part of the altarpiece there is a representation of the coronation of the Virgin Mary by the Eternal Father, surrounded by fluttering angels that play in front of the altarpiece and around the scene.

At each end of the temple's transept there are two LATERAL ALTARPIECES, also in the Baroque style. The altarpiece on the left is dominated by the founder of the Trinitarian Order, Saint John of Matha, who is accompanied by the carvings of Saint Thomas Aquinas and Saint John of Nepomuk. Above them is the image of Saint Barbara. In the altarpiece on the right is, in its centre, the sculpture of Saint Joseph, husband of Mary, accompanied by the images of Saint Mary Magdalene and Saint John the Evangelist. A Crucified Christ crowns the whole.

Also on each side of the transept hang TWO LARGE PICTURES made by the Cantabrian artist César Abín in 1955. The canvas on the left is a bucolic representation of the moment when the image of the Virgin was found in the window of the hermitage of Saint Mark. And the painting on the right immortalizes the coronation of Our Lady «Bien Aparecida».

In an open arch in the wall and located under the choir there is a beautiful CRUCIFIED CHRIST from the Castilian baroque workshops. The image represents, with great realism, the Crucified at the moment of his death. The eyes are blurred and semi-open, the veins and tendons are marked, and the body is tilted and lying on his arm.

From the choir of the Sanctuary a magnificent romantic ORGAN , made in 1914 by the prestigious workshop of Lope Alberdi and inaugurated by the master Jesús Guridi, solemnizes the sacred liturgy and delights music lovers.

On the side wall, next to the door of the Penitential Chapel and behind a small iron fence, is the SMALL WINDOW ("VENTANUCO"). It is the window of the hermitage of Saint Mark where they found the image of Our Lady «Bien Aparecida».